Women's Entrepreneurship Day WEDO CDA/Spokane!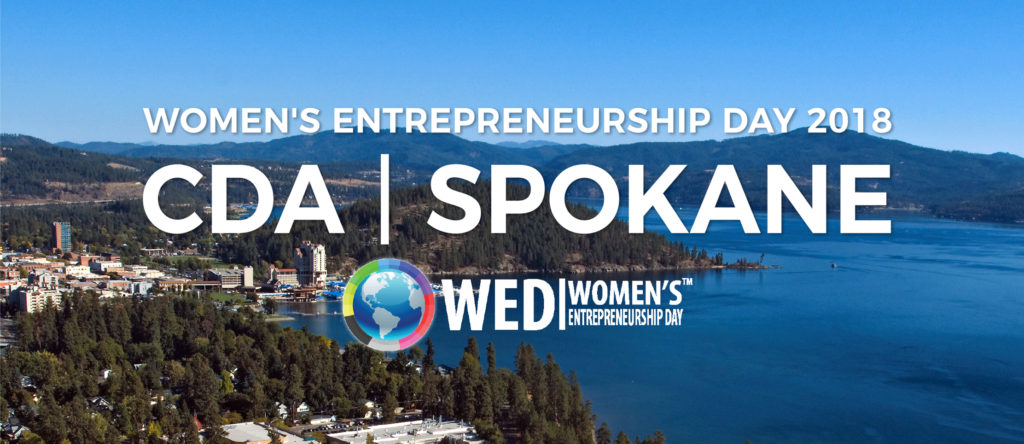 This year the "Women's Entrepreneurship Day" WEDO CDA/Spokane is taking place at a new venue.  North Idaho College (NIC)  is partnering with us to house a group of over 350 women and students at NIC this Friday night November 30, 2018 from 4:00-8: 30 pm, at Schuler Auditorium, with an after party at Vine and Olive in Riverstone.

WEDO is a conference for women entrepreneurs, business owners, policy makers and women who desire to make changes for the good of their community and globally.  WEDO believes that when leaders grow, revenues grow, jobs are created, and lives are changed.  This is the mission of WEDO- to celebrate, empower and support women in business, to alleviate poverty in our local North Idaho and Eastern Washington communities as well as worldwide.
We are excited to be partnering with NIC in this endeavor, as NIC has recently won the "2018 Heather Sickle Entrepreneurial College of the Year" Award by the National Association for Community College Entrepreneurship (NACCE).Ryan Arnold is the Director of Regional Entrepreneurial Strategy at North Idaho College and he will be with us this Friday night to share how the college is responding entrepreneurially to change in our community.
NIC President, Rick MacLennan stated, "The heart of our work is developing our business and community relationships to help fuel the economic vitality of North Idaho. Creating relevant learning opportunities for our students in today's ever-evolving economy".  NIC has an Entrepreneurship Certificate program at the Center for Entrepreneurship on campus, learn more at www.nic.edu/venture.
There are still tickets available at WED CDA/Spokane Eventbrite for VIP and regular access.  There is special VIP early access for guests at the "Inner Circle" Reception with swag bags and a look at some special projects going on at NIC to facilitate forward thinkers and agents of change, at the local level. General tickets and reception starts a 5:00 pm and the event begins at 5:30 pm to 8:30 pm.  All students from NIC can get in free, but must register to do so.
The TEDx keynote speaker at this years WEDO night, is Rachel Strawther, Director of Leadership Training and Development at Gonzaga University's School of Leadership Studies.  She designs and leads executive leadership programs on topics such as emotional intelligence, conflict resolution, innovation and interpersonal communication.
A few of her presentations were for organizations such as Boeing, Washington Agriculture, and the International Leadership Association. She is a powerful story-teller and she uses humor and candid antidotes to elevate leaders at all levels in their organizations.  Her topic is on "The Power of Shame" and how it shapes decisions we make everyday.
An exciting panel of speakers will be on hand again this year as well.  One of our topics is  "Does Entrepreneurship Create the Independence You Want"? with Michaela Corcoran-Hall, Rookie of Year, Top Female Agent at Caldwell Banker Schneidmiller Realty, Naomi Boutz, owner of Vine and Olive, Judge for Wine Press Northwest, and Evie Fatz, owner of EvieFatz.com, Contributor Editor INSIDER, Elite Daily, Prevention Magazines.  Moderated by Lacey Moen, Owner of the Earthly Beauty Bar.
Our own lead ambassador for WEDO CDA/Spokane and the reason we are in global partnership with this organization, is Latisha Taylor, CEO and Founder of HealthMeasured.net and she will be moderating the panel,   "Scale Our Business to New Heights", with Linda Olson, Co-Founder of M+L Advisors, Kristin Ahmer, CEO/Founder Original Squeeze, Mandy Manning TEDx Speaker, Washington Teacher of the Year 2018, Allison Glasunow, Ph.D., Attorney Perkins Cole LLP and Tara Wear, Instructor Gonzaga University's Women's Leadership.
Globally, the WEDO organization held a United Nations Summit this month in New York City, where they had 75 underprivileged girls attend the conference and where they gave out 1,000 micro-loans to help new women in business start their own businesses.
This is an exciting time to come together in our local CDA and Spokane community to inspire and support women in business, regardless of gender, age or current skill sets.  It's about everyone who gets involved, helping other people become the best version of themselves, so they can bring innovation and change to our region.  This can be the change that will make a difference for generations to come.
WEDO CDA/Spokane, in its partnership with NIC,  will use all of its proceeds this year to assist in scholarships for Entrepreneurship Education at NIC.  We will also be working together with NIC to  launch a business pitch competition, think Shark Tank, for the local high school students to receive coaching and mentorship for their business ideas. The WEDO CDA/Spokane will have an exclusive partnership with them for the next three years, which means all community sponsors will have the opportunity to be a part of this process as well.
To learn more about WEDO or to be a sponsor  follow us on Facebook at WED CDA/Spokane or online at womensdayidaho.org.
…
Sheree DiBiase, PT is the owner of Lake City Physical Therapy, PA , with three offices in our region with a speciality in Women's Health Care and she is proud to be a WEDO CDA/Spokane delegate again this year. For sponsorship opportunity please contact me at shereelcpt@gmail.com.
Please join us this Friday night as we make a difference for our community!.  Be the change needed for growth in our region.